Google has been beta testing lead form feature on Google Ads extensions since last year, helping advertisers capture leads from their paid search campaigns, available for users with mobile and tablet devices.
Recently in August this year, the feature has also been introduced to YouTube ads, for iOS mobile and tablet users.
Why lead form is helpful to marketers
With this feature, marketers collect leads directly from ads, without the need to redirect users to a landing page. The feature enables users to easily share information as they search, discover and watch relevant content. It helps create a seamless flow for marketers and advertisers to capture high-intent leads efficiently.
Example of lead form in Google search ads, credits to WordStream
In fact, from a success story shared from Google, Jeep adopted this lead form feature with their Korea branch and saw 10x increase in lead generation. According to Jeep, this feature also generated leads at the most efficient cost among all ad channels.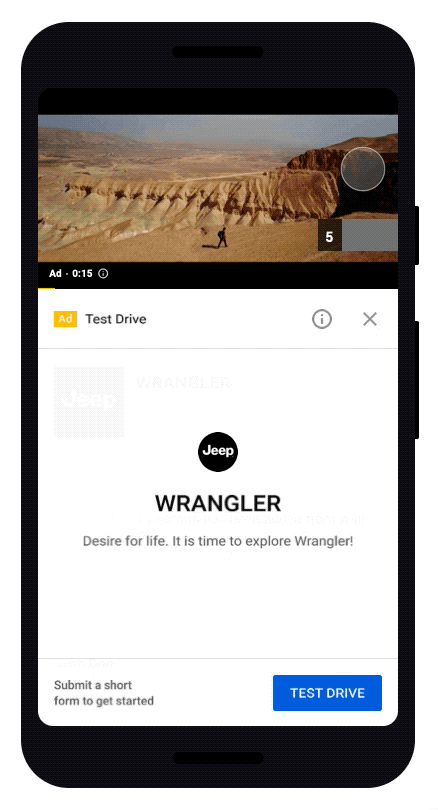 Lead form in YouTube ads by Jeep
So let's see how lead form works in search ads and video ads, and some items to note while creating a lead form extension.
How it works
For search ads (SEM), advertisers can append lead forms as an ad extension to text ads. The text ad expands into a form after users express interest in the ads by clicking on it. Users can fill out the form and submit it right away.
For video campaigns (YouTube), a lead form can be used in any video campaign running TrueView for action. Advertisers can add lead forms during the campaign creation process, or from the campaign settings menu. The lead form will appear under the video after users click the call-to-action button.
Remarks on creating your lead form extension
As the lead form is a helpful tool to capture leads' contact details, a privacy policy URL is required in setting up the personal data collection statement.
Advertisers can add up to 10 questions including name, phone number, email, city, etc.
When creating video campaigns, advertisers can choose which types of leads they want to capture: "High intent" (reaching people who are more likely to be interested in your product), or "More volume"(reaching a maximum amount of people).
Lead data can be downloaded in a csv file, and can also be connected to the company's CRM platform via a webhook for marketers to directly receive collected leads in real-time.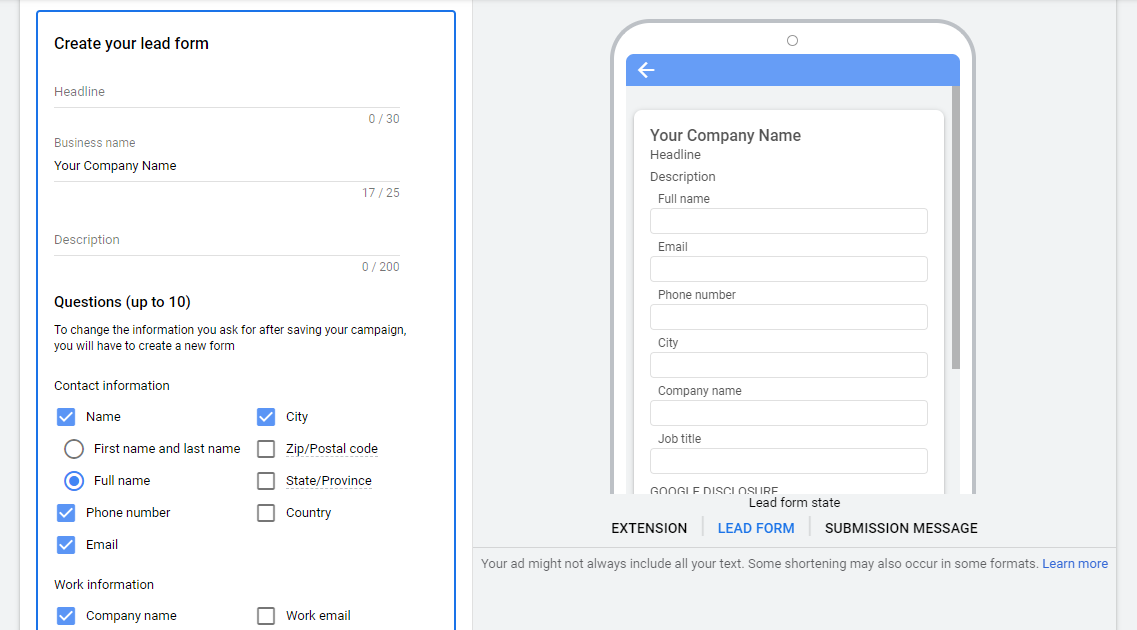 Setting up lead form extension in Google Ads
Later this year, Google will be rolling out lead form extensions to display ads as well. As a premier partner of Google, our team looks forward to leveraging this feature across channels to unleash digital advertising potentials for our clients.
Have questions regarding digital marketing? Talk to us today.
Source: